Hot summer gives Solar Power Bounty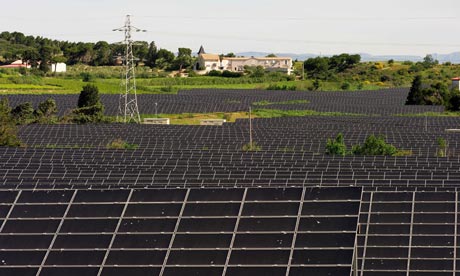 Weeks of strong sunshine across much of Britain and a surge in photovoltaic (PV) panels installations has resulted in the record generation of solar power, according to figures from government and the industry.
There are now over 450,000 solar installations, almost all on household roofs, which together have a capacity of 2.7GW. On a sunny day solar power is able to generate around 2% of UK demand over a 24-hour period. But because solar panels generate electricity in peak daylight hours, this is the equivalent of around 6% of all electricity needed in Britain between 10am and 5pm.
According to calculations by the Solar Trade Association, record amounts of electricity will have been generated in the recent heatwave, with solar overtaking wind power for the first time. In the past year, more than 100,000 households installed solar despite the so-called feed in tariff subsidy being slashed by the government.
"The UK generated around 16,000MWh on Tuesday compared to 9,900MWh of wind. The total consumption of electricity on this relatively calm day was 766,987MWh," said Ray Noble, PV specialist at the Solar Trade Association.
"These few sunny weeks have shown that the solar resource in Britain is phenomenal," said Leonie Greene, communications director of the association.
"We now have a very large number of domestic installations and around one-third of the solar electricity generated now comes from utility-sized solar fields. But there are still very few medium-sized commercial or industrial installations. If the government backed these they would see enormous payback."
The Met Office said it was too early to say whether British sunshine records will be broken in July. But they released figures showing that England and Wales received over 75% of the long-term monthly average for July in the first two weeks of the month. Wales received more hours of sunshine both in June and in the first two weeks of July than any other region in Britain.